Brian is a native of the Pacific Northwest and has been practicing law for over 20 years. He focuses on the areas of Elder Law, Medicaid planning, Estate planning, IRA planning, Tax planning, and Stock Option planning.
Holding a Masters of Law in Taxation, Brian is a certified Attorney-CPA and highly respected nationwide in the legal and tax community for his extensive and sophisticated work in tax litigation. His high-profile cases have impacted stock-options tax laws, helping countless plaintiffs across the U.S. recover millions of dollars.
An active member of the American Academy of Attorney-CPAs and president of its Washington State chapter, Brian approaches his work with great energy and serves his clients with respect and compassion.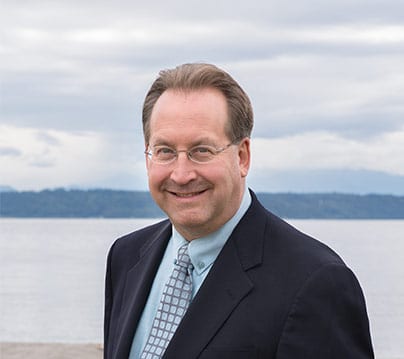 Brian is admitted to practice law in both Washington State and New York State, as well as in the U.S. Tax Court, the U.S. Court of Federal Claims, and the U.S. Court of Appeals. He is a member of the American Bar Association Tax Section, the National Academy of Elder Law Attorneys, and Lawyers With Purpose. Brian is a sought-after speaker and has co-authored several books on wealth preservation, including Don't Go Broke in a Nursing Home; Protect Your IRA—Avoid the 5 Common Mistakes; and Tax Free Money For Long-Term Care.
Brian and his wife, Cindy, have been happily married for 17 years. They have a ten year old daughter, Abby, who is a competitive ice skater. In their free time, the family enjoys just about anything to do with the great outdoors, particularly skiing and hiking.
Typically, estate planning focuses on transferring or preserving a legacy. For Brian's parents, this goal became a very distant second. Brian's father was suddenly diagnosed with cancer, and at the time the cost of care was expected to exceed $10,000 per month. The family's primary challenge was to figure out how to get the care Brian's father needed without going broke or liquidating all of their assets. Brian's parents also wanted to leave something for their heirs.
With expert guidance from Brian, and through proper Medicaid pre-planning, Brian's parents learned they did not have to liquidate everything to receive the assistance they needed. Instead, the planning solutions Brian implemented provided his parents with medical care and security, and helped them once again enjoy financial peace.
Brian knows first-hand the challenges families face in trying to protect assets against the high cost of long-term care. He welcomes the opportunity to assist you and your family. Contact us today for a personal meeting to discuss your particular needs and goals.